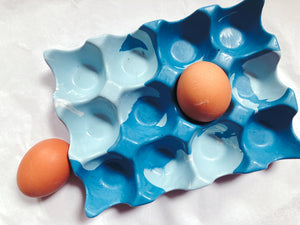 Egg Holder 12 Eggs
Regular price $60.00 Sale
or 6 weekly interest-free payments of $10.00
What's this?
A bright and fun addition to your kitchen decor all year round. 
As each piece is a one off and never to be replicated, the item shown will be the actual piece you receive.
Each one uniquely detailed due to the handmade process. Each piece may have small air bubbles, which is a result of the hand poured process of the material and is a natural finish.
Care Instructions: Each piece is sealed using a VOC Free, water-based eco-friendly sealant in a matte finish, which absorbs into the material, which provides excellent water repellency and long lasting protection. Jesmonite can be wiped with a soft cloth using warm soapy water. This will keep your handmade item looking wonderful.